---
Gemstones linked with silver wire, and a square pendant with the word PEACE written in Nabatean script- the script that was used in the Rose Red city of Petra.

Silver pendant is rhodium plated
Necklace length 45cm
Available in amethyst, pearl, garnet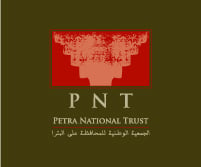 This collection has been adopted by the Petra National Trust, in a joint collaboration with Nadia Dajani Jewellery.
A percentage of the sales of this collection will go to the Petra National Trust, to further their work in protecting and preserving the heritage of the Rose Red city of Petra, Jordan's national treasure.
We are indebted to Dr Hani Hayajneh of Yarmouk University for advising us on the Nabatean script that we are using in our jewellery.